How the game is played?
It's free to download and try out. A person has to memorise the positions of cards shown briefly and then tap on each correct pair in the least number of moves.
Why will kids love this app?
The challenge to solve memory games in the least number of moves possible.
Kids would love to compete against their parents, siblings or friends to see who completes faster.
Colorful, cute and captivating images make playing the game all the more interesting.
The animated background underwater theme with fishes swimming around is pleasing to the eyes.
Loads of words to make the games fun every time.
3 levels of difficulty - Easy, Normal, Hard with option to save top rankers in each level.
Why parents will love this app?
Kids will sharpen their brain playing memory games.
Kids will learn new words and also how to pronounce them.
They will learn to identify different objects from their images.
Fun with education at the same time.
The parents could spend quality parent-child time together with this app.
Video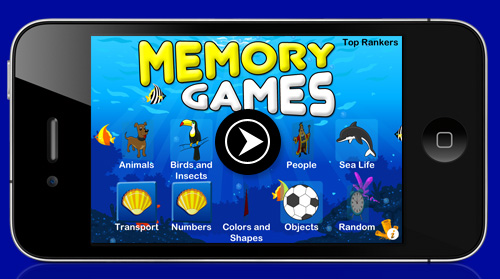 More iPhone & iPad Apps For Kids: